Uk Number Plate Site





Latest News



Have you ever seen a zero number plate? Me neither but they do exist. Just 7 were issued in th UK, G0, S0, V0, RG0, HS0 and VS0 in Scotland, LM0 in London. The Lord Provost in Edinburgh has just downgraded his mayoral car but managed to keep his number - S0, even though the sale of it could add a nice wedge to his budget. S1 sold for £400,000 at auction.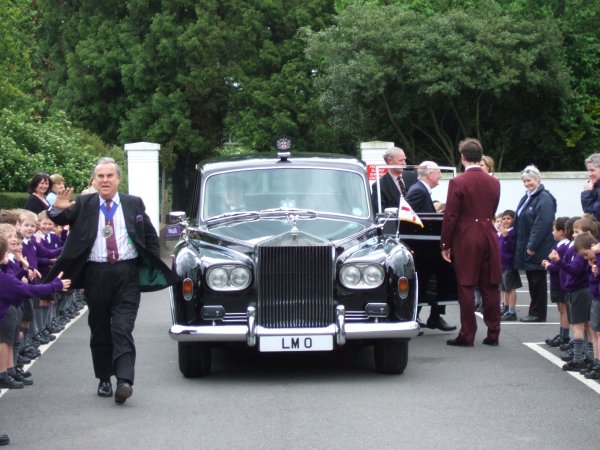 A rise in 'car cloning' has led for calls to change current number plates. Over 30,000 plates are stolen or copied each year & used to evade speed camera's, the congestion charge & even serious crimes. The electronic age has enabled some criminals to drive cars which appear to be taxed, mot'd and insured.

Another one letter, one number reg has been autioned by the DVLA. 1D sold for a whopping £285,000 to a Lebanese property developer. Total price was £352,000 including costs. Ouch.

A DVLA auction contains very desirable numbers. 1O sells for £210,000, 1HRH £114,000 and 3S £94,000. Also in another auction the rare Isle of Man registration, MN1 sells for £100k.

The DVLA's first ever sealed bid sale has now ended with most numbers offered finding a new home. The headline sale goes to '250 SWB' at £52,000, a lot of money for a 3 letter, 3 number plate but peanuts if you are rich enough to own a Ferrari 250SWB....

The first Scottish registration S1 has sold at a Bonham's auction for a whopping £397,500. S1's first buyer was Sir John MacDonald, one of the founder members of the RAC. The plate stayed with the family ever since its first purchase in Edinburgh 1903 and was sold by one of Sir MacDonald's descendents, having remained with the family until the auction.

Licence plate No 1 broke the world record as the most expensive, fetching a whopping Dh52.2 million (£9.7 million pounds!). The winning bidder was Saeed Al Khouri & the money goes to a hospital specializing in accident victims.

A new record price has been set for a British vehicle registration number after Afzal Khan paid £440,625 to buy the Formula One initials F1 from Essex County Council. The Bradford entrepreneur, who owns a specialist car design company, plans to display the number plate on his £317,000 Mercedes SLR McLaren supercar. F1 was the first number plate issued by the Essex County Register of Motors in 1904, the year it became compulsory for motor vehicles to bear a registration plate.

The world record price for a registration plate, £3.5 million, was paid at an auction in Abu Dhabi last year by a prominent Gulf businessman, Talal Ali Mohammad Khouri, for the single-digit number 5.That record is expected to be broken later this year, when Abu Dhabi Police auction the most sought-after number plate in the United Arab Emirates, the single-digit 1.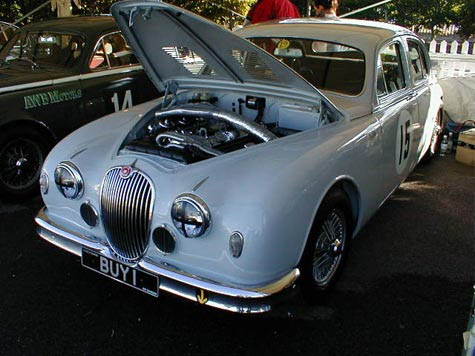 Hot on the heels of the previous eBay plate - MD 1 has sold for over £70,000 with over 40 bids. It is believed to have sold to a registration number dealer.

The highest-ever price for a personalised number plate on eBayMotors has been paid. CEO 1 sold for £154,100 after a bidding war broke out when Derek Clements posted the plate on July 2nd. He received almost 100 bids for the plate, which was once on an Aston Martin DB6.

Auction house Brightwells are offering the plate 1BUY in their March sale. The sister plate - BUY1 has graced the famous racing Mk1 Jaguar originally owned by John Coombs (driven by Roy Salvadori) since the fifties. The car has enjoyed much success during its racing career. Brightwells hope an enthusiast will wish to put the plate on a similar car.

Vodaphone's financial troubles have hit them hard. Around 200 executives have been ordered to hand the keys back for thier cars, including Ferrari's, Maserati's and Aston Martin's. They are also going to be selling the big three number plates they own - VOD1, VOD2 and VOD3. Expect big prices...

The UK's most expensive number plate! - The registration M1 has sold at auction for a record £331,500. Estimated to fetch £80,000 to £120,000 at the Goodwood Festival of Speed, it is thought to have sold to a Cheshire businessman as a present for his 6 year old son! It was originally issued in Cheshire in 1903 and was owned by the National Trust.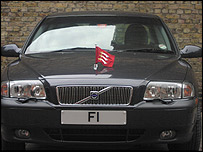 Meanwhile F1 fails to sell at auction, on behalf of Essex County Council which it first issued as a licensing authority in 1904. Ex Formula 1 driver Eddie Irvine was rumoured to be interested however the reserve was thought to be in the region of £350k, a bit rich for most people. The F1 plate has been used for the past 100 years on the car of the council's chairman. Andrew Johnstone is thought to have been the first chairman to use the plate on his four-seater Panhard Levassor in 1904.

Two plates for Porsche fans have recently gone under the hammer. POR 911 and THE 911 were owned by the Drambuie Liqueur Co and sold for £30,000 and £44,000 respectively. They were estimated to reach around £15,000 each.

In Northern Ireland, Wilsons Auctions recently sold BIG 1 in one of their many Irish registration sales. It smashed all estimates with bidding finally ending at £80,000. This beats the previous record of £50,000 for WIL 1. The winning bidder, an Ulster businessman revealed he would have paid more..... The number DIG 1 is coming up in their next sale.

Roman Abramovich, the Russian billionaire owner of Chelsea FC is reputed to have paid more than £250,000 for another Irish plate, VIP 1.

The DVLA's record price is £201,000 (£253k including costs) for 51NGH, knocking K1NGS off the top spot.