Interesting celebrity and auction plates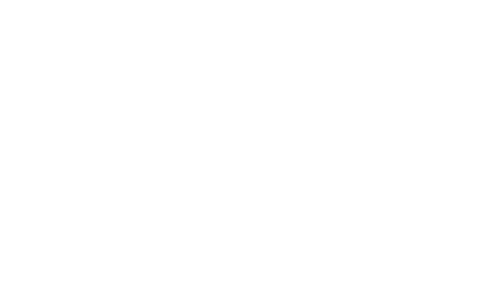 AMS1, the number made famous by Alan Sugar on his tv program, The Apprentice. His wife's car has the plate 1AS.

Unlike previously thought, Formula 1 driver, Lewis Hamilton has not bought LEW1S and has stated he has no interest in buying it.

Tom Walkinshaw, founder of the TWR race team has 4 TOM on his HSV Holden.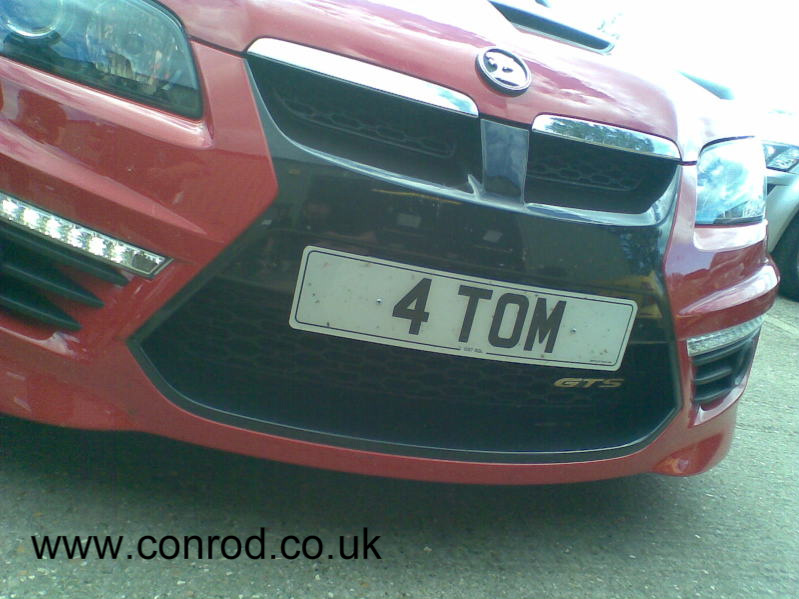 VIP1, used by Pope John Paul II on his tour of Ireland in 1979. Recently purchased by Roman Abramovich for over £250,000. Allegedly.

NOT1, BUT2, two brothers had these plates on their matching Ferrari's.

Her Majesty The Queen owns A7, whilst Princess Ann used to hold 1ANN on her car, but had to take it off for obvious security reasons.

The Queen Mother once owned NLT2 and with HRH Prince Philip having OXR1.

Jimmy Tarbuck is apparently the envy of every comedian in the UK with his number plate COM1C.

BET1L, a VW in the town where I grew up had this number, perhaps seeing it every day after school explains my interest in personal plates and VW's. Where is it now? The local mayors car was registered ET1.

MAG1C, famously owned by Paul Daniels. Say yes Paul.

PEN15, owned by superbike rider and truck racer, Steve Parrish. Also owns 60CK (looks a bit like cock I suppose).

Jason Plato, touring car driver and TV presenter has, unsurprisingly P1ATO!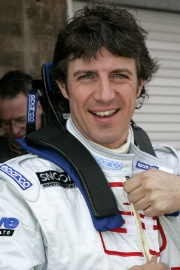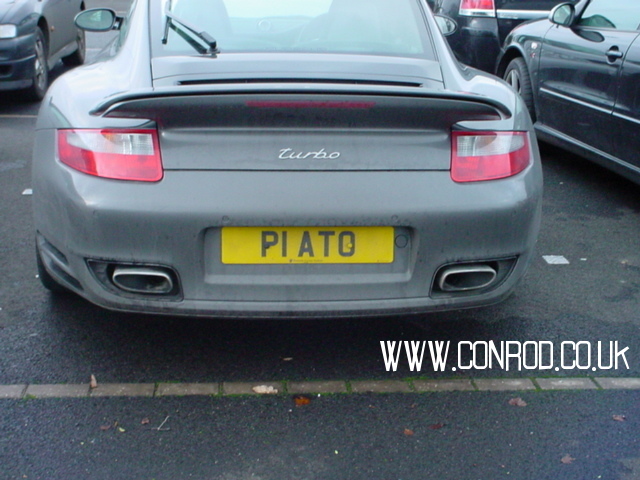 FU2, famously displayed for some years on Fiona Richmond's yellow Jaguar E-type. Owned by the Billy Smart circus family (also own BS1).

Joseph Cyril Bamford (founder of JCB tractors) has at least 40 number plates, including JCB 1 through to JCB 20!

MB1, owned by Max Bygraves until recently. He had resisted numerous offers from Mercedes Benz to sell the plate.

NAS1, owned by boxer 'Prince' Naseem Hamed.

Another boxer, Chris Eubank has 1KO on a huge American Peterbilt truck.

While we're on boxing, Amir Khan has BOX111G.

The most expensive plate sold at a DVLA auction? 51NGH - £254,000 in 2006. This makes the arguably better number S1NGH look an absolute bargain at £86k (plus costs) in 1998.

The top DVLA auction prices

1) 1 D £352,411 Mar 2009
2) 51 NGH £254,000 Apr 2006
3) 1 RH £247,000 2008
4) K1 NGS £231,000 Dec 1993
5) 1 O £210,242 2009
6) 1 A £200,000 Dec 1989
7) 1 OO £197,000 Apr 2006
8) 2 O £142,249 2009
9) 6 B £130,000 2008
10) 1 HRH £113,815 2009
11) S1 NGH £108,000 Nov 1998
12) 1 RR £106,000 Jan 1995
13) MR51 NGH £101,000 Apr 2006
14) 1 S £100,000 Dec 1990
15) G1 LLY £87,500 Mar 1990
16) 1 MK £83,500 Dec 2002

A few interesting auction plates....

In 1991 DAV1D sold for a cool £50,000, a lot of money but obviously the ultimate number for David. In 2003 DAU1D sold for £33k, looks similar but worth it? My name isn't David so no, its not. Also in 2003 DAV 7D waas sold for £10,600. More recently DAY 1D sold for £15,500 in Dec 2006 and BAV 1D for £6,000 in Oct 2006. It goes to show what people are willing to pay for a 'name'.

At a 2005 DVLA auction GUV110R was offered for sale with a £500 reserve. Final selling price actually was £9,200. Now the DVLA 'would rather you didn't buy a number if you intend to mis-represent it'. Not only do they continue to sell numbers which are meaningless without a little adjustment, they will happily bank millions each year selling such numbers. By the way, with a well placed screw its GUV NOR. Similar frauds, sorry sales include CHE153A - £4,300, B SM17H - £3,400, AUD1 7T - £5,800, LET 17 8E - £3,700.

Some rude plates have been released by the DVLA, these include BOO8, 130LOX, BOL10X and A55 OLE. Some others will not be released like P155 OFF. Many companies use numbers as a selling tool. Pimlico Plumbers in London famously have a range of them on their vehicles including W4TER, DRA1N, BOG1 and A 801LER. Souls Coaches also have a few, M 5OUL, P 5OUL and rather unfortunately, R 5OUL.